Shearing Sheep: Fleecing the Flock
Introduction
Having grown-up on a farm with a variety of livestock, I have enjoyed reading about the livestock in the Bible.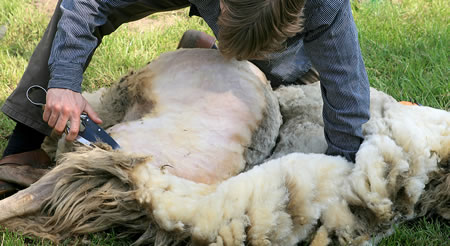 God really does care for the well-being animals (A righteous man regardeth the life of his beast: Proverbs 12:10). Often, we read the stories of Bible heros who learned the ways of God while caring for sheep, such as Abel, Abraham, Isaac, Jacob, Joseph and David. They cared, fed, watered, protected and led the flock, showing special care for the ewes and lambs.
And she again bare his brother Abel. And Abel was a keeper of sheep, but Cain was a tiller of the ground. Genesis 4:2
Joseph, being seventeen years old, was feeding the flock with his brethren; … . Genesis 37:2
But David went and returned from Saul to feed his father's sheep at Bethlehem. 1 Samuel 17:15
In contrast, it is suggestive to note the individuals who sheared sheep. Rather than the scripture pointing out their devoted care for the ewes and lambs, these individuals were more interested in fleecing the flock.
Earthly Laban
And Laban went to shear his sheep: and Rachel had stolen the images that were her father's. Genesis 31:19
Laban was a man of the earth who lived in Padan-aram (Genesis 28:2) which is the upper northwest region of Mesopotamia, possibly near Harran, an ancient city in southeast Turkey. He had no interest in the life of a sojourner in the land of Canaan. Canaan was the place of God's heavenly calling. He was content to settle down in this life as if this present life were the only thing that should concern us. Living and serving God did not motivate his heart or mind. Like the saints of old, we are partakers of the heavenly calling (Hebrews 3:1) too. In fact, Paul wrote to the Ephesians and said that, we are already seated in the heavenly places in Christ Jesus. This means that, representatively in Christ, we are viewed as if we are already in the heavenly places. Such is our heavenly calling in Christ. Heaven is our true home.
[God] raised us up together, and made us sit together in the heavenly places in Christ Jesus, Ephesians 2:6
By faith Abraham, when called to go to a place he would later receive as his inheritance, obeyed and went, even though he did not know where he was going. By faith he made his home in the promised land like a stranger in a foreign country; he lived in tents, as did Isaac and Jacob, who were heirs with him of the same promise. For he was looking forward to the city with foundations, whose architect and builder is God. Hebrews 11:8-10
Harsh Nabal
Now there was a man in Maon whose business was in Carmel, and the man was very rich. He had three thousand sheep and a thousand goats. And he was shearing his sheep in Carmel. The name of the man was Nabal, and the name of his wife Abigail. And she was a woman of good understanding and beautiful appearance; but the man was harsh and evil in his doings. … 1 Samuel 25:2-3
Next, Nabal was a harsh, evil, self-centered man who did not care for anyone except himself. He wanted to accumulate wealth and power, even if it meant stepping on other people to advance himself. He could be ruthless in the pursuit of his own goals. He was a sheep shearer. He evaluated others from the perspective of how much they would benefit himself alone. How he might help others did not enter his thoughts.
Ambitious Absalom
And it came to pass after two full years, that Absalom had sheepshearers in Baalhazor, which is beside Ephraim: and Absalom invited all the king's sons. And Absalom came to the king, and said, Behold now, thy servant hath sheepshearers; let the king, I beseech thee, and his servants go with thy servant. 2 Samuel 13:23-24
Absalom grew-up in the family of King David. He let bitterness consume him, and he became revengeful to the point of murder. He was familiar with royality, and fell in love with royal adulation, pomp, power and kingly authority. He was a master with a lot of servants who would fleece the flock for him. In the end, Absalom is symbolic of the anti-Christ's spirit of rebellion against Jesus who is the rightful King. He missed the lessons that come from a shepherd's care for a wayward sheep and saving it from a wild animal. He did not learn from his father David who rescued lambs from a bear and lion.
But David said to Saul, "Your servant used to keep his father's sheep, and when a lion or a bear came and took a lamb out of the flock, I went out after it and struck it, and delivered the lamb from its mouth; and when it arose against me, I caught it by its beard, and struck and killed it. 1 Samuel 17:34-35
Laban, Nabal, and Absalom were sheep shears who did not care for the welfare of the flock. They fleeced the flock, not feed it.
Jesus
"I am the good shepherd. The good shepherd gives His life for the sheep. John 10:11
The Lord Jesus is the Good Shepherd who willing died for the sake of the sheep. We were wayward sinners who could not save ourselves. We were helpless and on the way to a lost eternity. He went to the cross and paid the penalty for our sins. He has sought us and brought us back to God joyfully on His shoulders (Luke 15:5). See also the Old Testment imagery of our shepherd God.
He shall feed his flock like a shepherd: he shall gather the lambs with his arm, and carry them in his bosom, and shall gently lead those that are with young. Isaiah 40:11
God cares for us like a shepherd does his own flock. We can each say, The Lord is my Shepherd (Psalms 23:1). The Apostle Peter warns those who are leaders in the church to feed the flock of God, not to fleece the flock of their money.
Feed the flock of God which is among you, taking the oversight thereof, not by constraint, but willingly; not for filthy lucre (money), but of a ready mind; 1 Peter 5:2
Yet today, there are some church leaders who serve the flock for power and money. In contrast, when we look to the future, we see Jesus as a Lamb who leads us as a shepherd to living fountains of waters.
For the Lamb who is in the midst of the throne will shepherd them and lead them to living fountains of waters. And God will wipe away every tear from their eyes." Revelation 7:17