The Lord's Eyelids
His eyes behold, His eyelids test the sons of men.
Psalms 11:4 1
We might ponder the words of David in Psalms 11, where he mentions the Lord's eyes and His eyelids. It is true that most commentators teach that the Lord's eyelids symbolize His eyes squinting as if to inspect more carefully our thoughts and actions .2
However, there may be another thought to consider. The eyelids are most visible when we are sleeping. Could it be that the Lord's eyelids testing the sons of men is meant to teach us that we are especially tested when the Lord seems to have His eyes closed to all the evil that we may have to endure?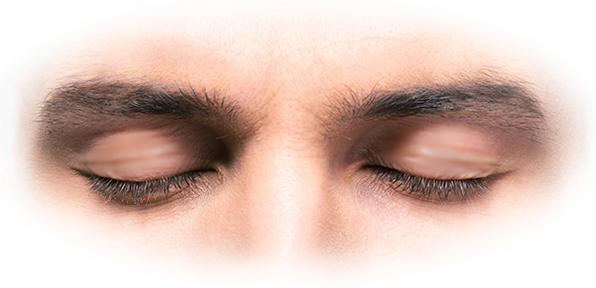 David had to flee from King Saul who sought to kill him on several occasions. For example, Saul threw a javelin at David to remove him from his presence.
And it came to pass on the morrow, that the evil spirit from God came upon Saul, and he prophesied in the midst of the house: and David played with his hand, as at other times: and there was a javelin in Saul's hand. And Saul cast the javelin; for he said, I will smite David even to the wall with it. And David avoided out of his presence twice. 1 Samuel 18:10-11
David served King Saul faithfully, but the king hated him all the more. David felt that the moral foundations of Israel's society were destroyed. He might have wondered: Does the Lord really see all the evil that I am facing? He asked,
If the foundations are destroyed, What can the righteous do? verse 3
It seemed as if the Lord was sleeping and that His eyes did not behold all of the evil in the nation of Israel. No doubt, it was a very difficult time for David as he had to hide from the corrupt leadership in Israel. It is during these time when the Lord does not seem to respond to the evil that we face difficulties that really test our faith. It is as if the Lord's eyes were covered and that He was unware of our trials. Do we trust the Lord, when we face circumstances that seem impossible to endure?
David encouraged himself by reminding himself that the Lord was still holy and on the throne.
The Lord is in His holy temple; the Lord's throne is in heaven; verse 4
He had confidence in the Lord, and he could walk by faith and serve others while waiting upon God's time to become Israel's king. Even though he was anointed king, he was willing to live as a fugitive and dwell in a cave. Many who were distressed, discontented, and indebted came to him. May we follow David's example and encourage others who feel overwhelmed by life's trials. Even though the Lord's eyelids seem closed to us, we can be assured that His eyes actually see everything we face as we continue our life's pilgrimage in faith. For we live by faith, not by sight. 2 Corinthians 5:7
So David departed from there and escaped to the cave of Adullam; and when his brothers and all his father's household heard of it, they went down there to him. Everyone who was in distress, and everyone who was in debt, and everyone who was discontented gathered to him; and he became captain over them. 1 Samuel 22:1-2
The last verse of Psalms 11 is a great encouragement to us. It reminds us that the Lord is righteous, just, and that we will see His face. It was David's faith in the Lord that permitted him to look beyond his trials and to know that, in the end, he would see the Lord's face. May we serve Him now as we anticipate glory ahead of us.
For the Lord is righteous, he loves justice; the upright will see his face. Verse 7
References
---
1. Psalms 11:4, New American Standard Version.
2. Charles H. Spurgeon, The Treasury of David, "His eyelids try the children of men:" he narrowly inspects their actions, words, and thoughts. As men, when intently and narrowly inspecting some very minute object, almost close their eyelids to exclude every other object, so will the Lord look all men through and through.